The GREENFELD/GREENFIELD Family
text by Allen Henry Greenfield, Revised 2006

Our family came to America from Vienna, Austria in 1897. This was the legendary fin de siecle Vienna of "The Blue Danube"- of Strauss and Freud. There is documentary evidence the family lived for generations in Vienna, then the center of the Austro-Hungarian Empire, and the family may have had earlier origins in Bohemia and in Hungary. My grandmother's death certificate lists both her parents as also Viennese, a Joseph Sommers and Irene Wortimer. As she was born in the 1860s herself, the family seems to go back to the beginnings of the great successor (the "East Mark" – Austria) to the old Holy Roman Empire, dissolved finally by Napoleon Bonaparte. Family investigators report that the original surname was Von Greenfeld, later Greenfeld.

It was not too uncommon in the later centuries of the Holy Roman Empire and the short-lived later Austro-Hungarian Empire to ennoble distinguished citizens-there were even Jewish knights and barons (as the "Von" seems to indicate). Alfred (Isac) Greenfield was born in 1854, according to records we have discovered, apparently in Vienna, and presently became a brew master, from family accounts. He owned a famous saloon (immortalized in jazz great Eubie Blake's "Chester & Low"; Blake was house pianist in 1902-03 at Alfred Greenfeld's ) in Baltimore after coming to America, and the family enjoyed considerable prosperity. At the Jewish History Museum on Lloyd Street in Baltimore I discovered that my grandfather's establishment, long located at 1008 Low Street (alas, now a parking lot) moved to 2012 Madison Avenue, then the home of my Uncle, Dr. William Greenfeld. The famous photo of the Alfred Greenfeld Saloon was almost certainly photographed at the 1008 Low Street location.




Alfred Greenfeld's Saloon (at right, pictured with his son Dewey; Matilda Greenfeld
is seen at far right in background) was located at
Chester & Low in Baltimore, and was graced by the music of the great jazz and
ragtime musician Eubie Blake (1883-1983) in the early 20th Century. About
1912 Alfred Greenfeld had a stroke and lived until September 17, 1921.
(Note unusual position of his arm in photograph).



From original sheet music "(Down Corner of Chester & Low (in Baltimo)"

The saloon was said to have "gone bankrupt", and his family fell on relatively hard times.
However, this coincides with Prohibition becoming law in the USA, so there may be a bit more to the story. In the 1920 U.S. census, the family was living in the home of of Alfred's distinguished son, Dr. William ("Will") Greenfeld, M.D. of Johns Hopkins Medical Center. After Alfred's death, his wife Matilda continued to live under Dr. Greenfeld's roof off and on until her death a quarter century later. The home was located at 1206 E 33rd Street in Baltimore. The house is now a duplex.

The immediate Greenfeld Family of the period consisted of Alfred and Matilda (nee Sommers) and their children, who became quite a distinguished lot; Will (Dr. William Greenfeld, M.D.), Dewey (David), Albert, Eugene (Professor Eugene Greenfield, a Manhattan Project Scientist), Dorothy (wife of Dr. Sidney Marks, a pharmacist), Ida (wife of Dr. Martin Roos, O.D. and a 33rd Degree Scottish Rite Mason) Fay (Mrs. H.D. Gross) and Rose (Mrs. Charles Greenblatt). Matilda was born in 1865, and died on March 20, 1947 at the age of 82, having lived most of her life in Baltimore. She is my only grandparent who lived to see me born (November 4, 1946). Both are buried in the Ahavas Shalom Cemetary in Baltimore. As mentioned above, both Alfred and Matilda were natives of Vienna, according to U.S. government documents. Matilda's father was Joseph Sommers, her mother [Irena] Wortimer Sommers, also of Vienna. They were Yiddish-speaking, Orthodox Jews, and continued to speak Yiddish as a first language in America. Matilda also spoke fluent Viennese German all her life, as well as English.

My father, ALBERT Sommers Greenfield, was a "natural athlete" all his life. He played professional basketball for the Baltimore City Crescents in his youth,and was a catcher scouted by major league baseball. He had a talent for business as well.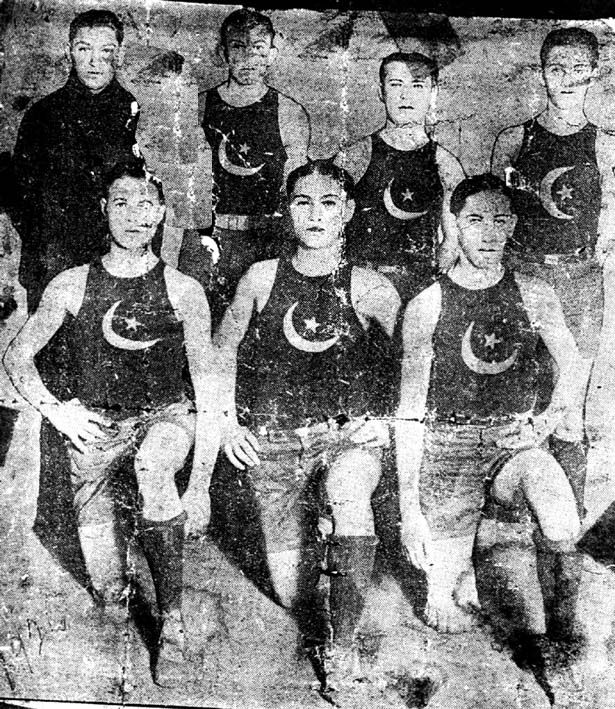 Albert Greenfeld, center, first row, from Baltimore Sun circa 1924






Albert Greenfield (at right), General Manager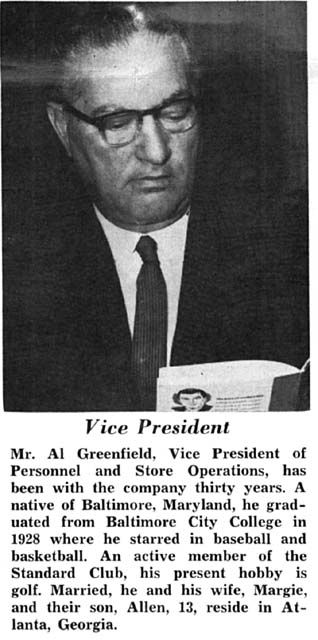 Albert S. Greenfield, mid career


His younger brother Eugene was destined to become a rather key nuclear scientist during WWII and thereafter, living well into the 1990s. He also played a key role in development of electrical-powered rail transportation.





Professor Eugene Greenfield and family, 1947


Albert went to work for S. Haley & Son in the shoe business after his father took ill. He spent the 1920s in relatively unremarkable jobs but remarkable athletic accomplishments. When the Great Depression hit Baltimore, he was one of many it hit hard, profoundly effecting his world view for the remainder of his life (a life-long Roosevelt Democrat). Yet, in a sense, the Depression was his major opportunity. Like many men thrown out of work, he eventually moved South during the early 1930s, and became associated with the S&J Simowitz Shoe Company and successor firms for the remainder of his life, nearly 40 years.
He married Mary Margaret SIMOWITZ in 1934 in South Carolina. They lived for many years in Augusta, GA, except for a brief period in Winston-Salem, NC during WWII. Al & Margie were active members of both The Walton Way Temple (Congregation Children of Israel-Reform) and Adas Yeshurun Synogogue (Orthodox in old building, Conservative in new). I received my first education at the "new" Adas Yeshurun circa 1950. As S&J grew, ALBERT (1904-1971) rose with the company, becoming General Manager of the successor Marilyn Shoes by the 1950s. Marilyn merged with Butlers Shoe Company of Atlanta in
1955, and the immediate family relocated to Atlanta the following year. Albert and Mary Margaret ("Margie") had one child,
a son, Allen Henry Greenfield, the present writer.




Allen Greenfield, May 2006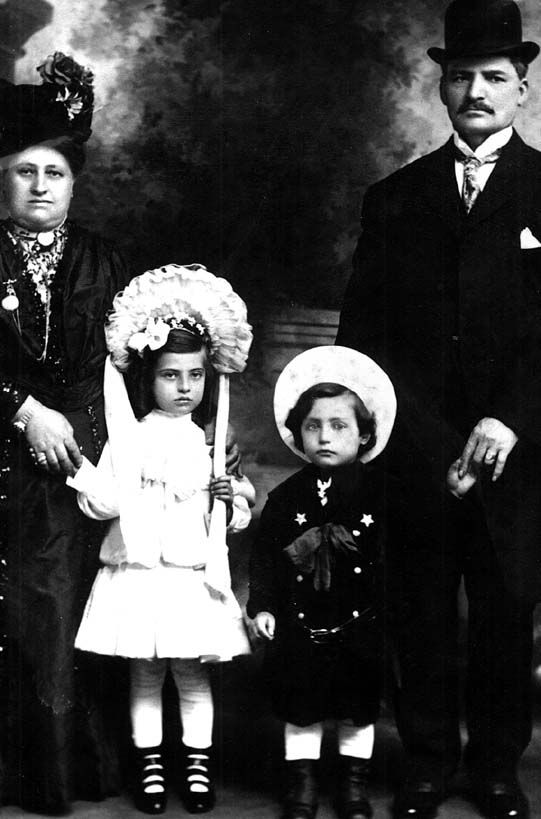 L-R are Matilda Sommers, daughter Dorothy, son Albert, & Alfred (Isac)
Greenfield, and son Dewey, circa 1910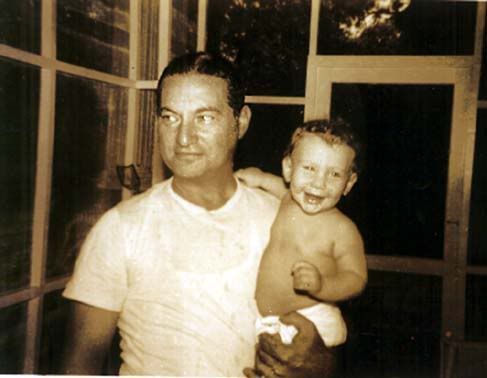 Albert and his son Allen Greenfield, circa 1947


The immediate family moved from Augusta to Atlanta, as noted, in 1956, and for many
years resided at 2875 Sequoyah Drive, in the Cherokee Forest section of Northwest Atlanta.
The family having moved to Atlanta with the corporate merger of Marilyn and Butlers Shoe Companies,
Albert becoming Vice President in charge of personnel and member of the board of directors.
Butlers became an NYSE listed corporation in the 1960s. Albert served as Lt. Col. Aide de Camp
on the staff of two Georgia Governors, Vandever and Sanders, in the late 50s-early 60s, and a
Deputy Sheriff of Fulton County GA during this same period. The shoe corporation merged with
the large jewelry company, the Zale Corporation of Dallas, TX,in the early 1970s, at my father's
instigation. During the integration turbulence that manifested in the latter years of his life,
Albert Greenfield became friendly with Rev. Martin Luther King Sr., working together to resolve
local business-related civil rights issues.




At the end of his life Albert Greenfield (seated at his desk) was a leading businessman;
Executive Vice President of Butler Shoe Company (Atlanta) and a Senior Vice President and
Member of the Board of Zale Corp (Dallas). He died April 10, 1971. His wife Margie
lived on until July 3, 1996.

ALLEN Henry Greenfield was born in 1946, became an intrepid world traveler by age 16,
having lived for some time in Israel and traveling extensively in the Mediterranean region, and,
later in life, in many parts of the world. His first book was published in 1975, and he became
a moderately well-known author of esoteric works by the 1990s. His
publishers included IllumiNet Press, Looking Glass Press, Luxor Press and, currently, Manutius Press.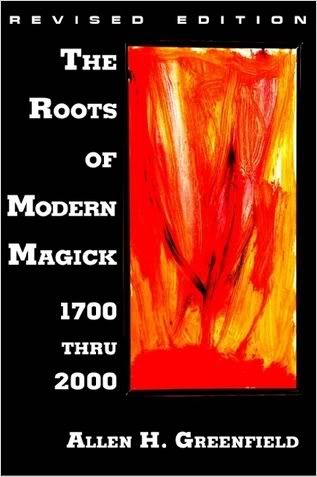 ALLEN Greenfield has three children: Alexander David Greenfield, born 1973 in Atlanta;
graduated from Marlboro College in Vermont in 1997, he was for years a story editor and
script writer in Hollywood CA, before moving into a major creative role with
The World Wrestling Entertainment of Stamford, CT.






Karl Theodor Greenfield, born 1990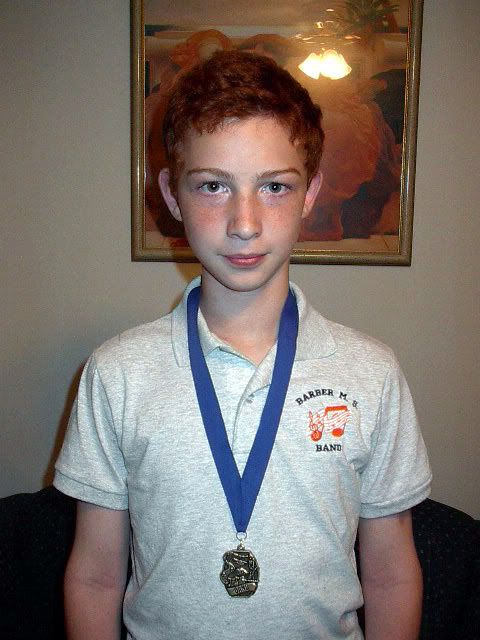 Randall Gnosis Greenfield, born 1992.






Maternal Family Roots - A Simowitz family reunion, 1947. Albert Greenfield is in the rear row, with many of his in laws. See our Simowitz family page for my maternal relatives.






Mary Margaret Simowitz Greenfield (second from right),
Allen, Alex, Karl & Randall Greenfield, May 1996



Other notable contributors to our research include Alfred Greenfeld, son of David "Dewey" Greenfield, John McWilliam Smith Jr., Grand Master of the Grand Lodge, AF&AM of Maryland, and the State of Maryland via various public and private records departments. Sheila Lee Greenfield, be it noted with gratitude, has done much of our family geneological research work. This is an ongoing project.