Sisters and Brothers in free communion, November 12, 2011
Mid November on the wilds and largely treeless Arabia Mountain power spot is a bit late in the year for even hearty free illuminists, but the weather favored us, and we had a good turn out to do an Episcopal Consecration for our honored guest from Portland Oregon, the Facilitator General of Azoth Temple of Universal Illuminism, along with signing his Lodge Charter. For the ceremony used, see the previous entry. Tau Aha was present just before departing Atlanta, and we had a formal passing of the Charter and Torch of Temple of the Black Sun in Atlanta into the capable hands of our brother Tau Aron and dear sister Deacon Raven, who I had ordained about two years ago, and who we were honored to ordain Priestess this Saturday. A number of us witnessed the signing of the original charter by the new facilitators, at the end of the Arabia Working. The Black Sun is in good hands and will doubtless continue to do great Work.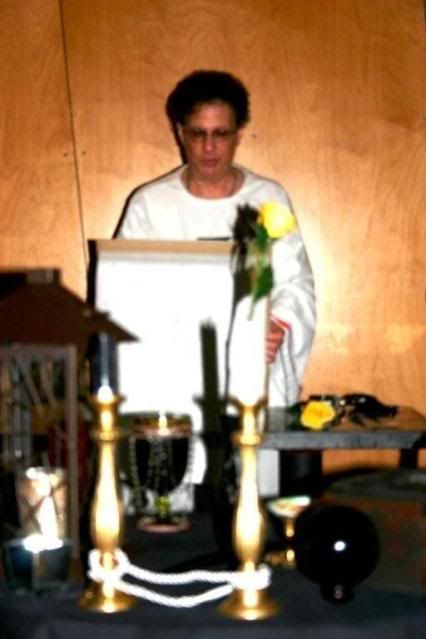 retrospective-signing the original Black Sun Charter, and the original charter
A number of people wanted to receive
points chauds within the 97 point-degree system we Work with,
and these were administered as illustrated below.
As has become customary, we ended as the sun began to set (and temp rapidly drop) with a robust and powerful healing circle for those absent and present in need.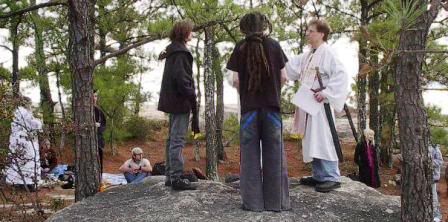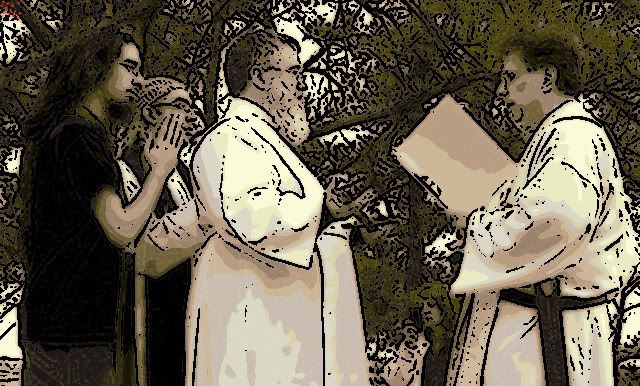 Tau Allen Greenfield, Assisted by Tau Aron and Tau Dositheos, Consecrates Tau Michael Sanborn. Deacon (behind TAG) Tau Max
A loving caring worldwide community, with 50 local bodies and approaching 2000 members
JOINING MAKES A DIFFERENCE FOR ILLUMINATION IN FREEDOM!
Profound thanks for those of you who have passed this along to your own friend list. It helps by illustrating that it is quite possible to seriously Work with others on Illumination without authoritarian structures. If you haven't already, please invite your own Friend list!
1800 + MEMBERS - ILLUMINATION IN A FREE ENVIRONMENT!1. Spiritual growth is incompatible with authoritarian structure.
2. Scientific Illuminism requires a non-dogmatic, experimental
approach.
3. A free society linked in free communion should be actualized.
4. We facilitate, we do not lead. We do the Work, we do not extract
oaths or dues, or require dogmatic beliefs.
You can make these resolutions a reality. Join us!
NEWS FOR 2010-2011 - MUCH ACCOMPLISHED, MUCH TO ACCOMPLISH!
http://tausirhasirim.livejournal.com/133126.html
http://tausirhasirim.livejournal.com/133104.html
http://tausirhasirim.livejournal.com/132386.html
http://tausirhasirim.livejournal.com/131921.html
http://tausirhasirim.livejournal.com/129794.html
http://tausirhasirim.livejournal.com/130938.html
http://tausirhasirim.livejournal.com/129794.html
http://tausirhasirim.livejournal.com/127931.html
http://tausirhasirim.livejournal.com/127677.html
http://tausirhasirim.livejournal.com/126386.html
http://tausirhasirim.livejournal.com/123849.html
http://tausirhasirim.livejournal.com/125258.html
http://tausirhasirim.livejournal.com/125566.html
http://tausirhasirim.livejournal.com/121198.html
and
http://tausirhasirim.livejournal.com/121432.html
First Blessing and homily given to assembled by Priestess Raven
FREQUENTLY UPDATED LIST OF LODGES, TEMPLES, NODES -
http://tausirhasirim.livejournal.com/104467.html
Cause URL:
http://www.causes.com/causes/152090?m=a9268988&recruiter_id=14256853