April 28th, 2010
On April 24 2010 at Kwan Yin Temple in cooperation with Ormus Lodge, Tau + Sir Leonis was consecrated by Bishop Tau Sir Hasirim, and a cross-consecration with + Dositheos, +Lamed, +Ishaviva, + Tula, and + Roger participating took place. Tau Indigo and others were also present during the synod of Congregational Illuminists. The Consecration represented powerful infusions into our egregore, and exemplified the broadly based communion of many approaches to the Great Work worldwide encouraged by Congregational Illuminism.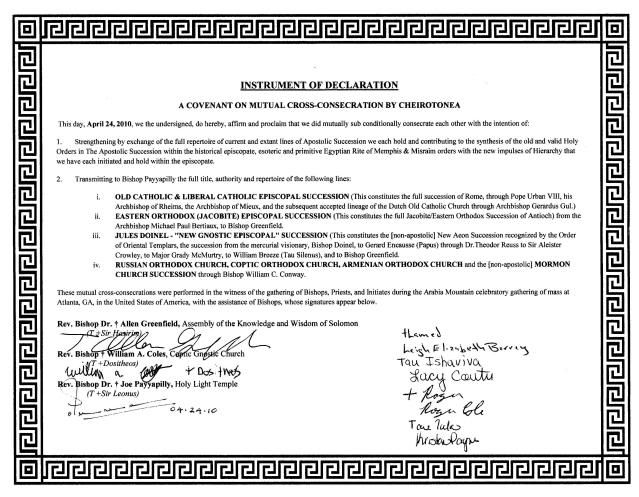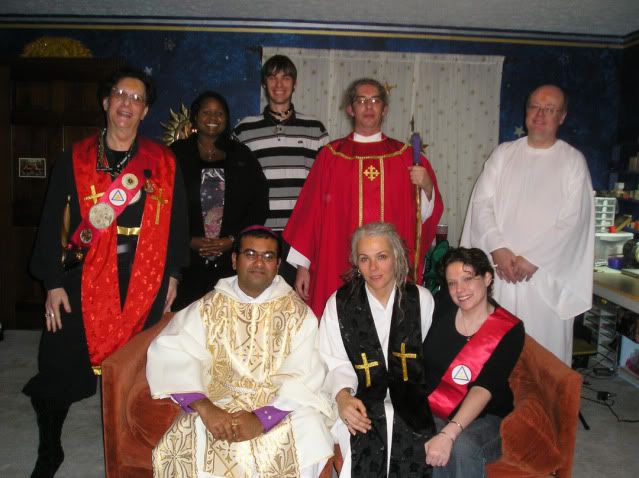 Tau Allen Greenfield Consecrated Tau Sir Leonis with Tau Dositheos and Tau Lamed assisting, followed by Tau Sir Leonis individually consecrating each member of the synod present in the ritual circle. This was followed by our cross-consecration sub conditione each in turn. Tau Sir Leonis is Facilitator of the A&P R MM Holy Light Temple in New Mexico, where he is in residence. He is a native of
Goa and is out of the Church of Malabar
, bringing the consecratory
"Vilatte Succession"
full circle.
go to part two
click here
PART ONE
Current Location:

Woodstock GA

Current Mood:

bouncy

Current Music:

May the Circle Be Unbroken
Tau Sir Hasirim consecrates Tau Sir Leonis thusly:
THUNDER, FLASH, ILLUMINATE, I DECLARE YOU ILLUMINATUS
[Anoint Forehead, hands, feet]
I was sent forth from the power, and I have come to those who reflect upon me,
and I have been found among those who seek after me.
Look upon me, you who reflect upon me, and you hearers, hear me.
You who are waiting for me, take me to yourselves.
And do not banish me from your sight.
And do not make your voice hate me, nor your hearing.
Do not be ignorant of me anywhere or any time. Be on your guard!
Do not be ignorant of me.
For I am the first and the last.
I am the honored one and the scorned one...
Give heed then, you hearers
and you also, the angels and those who have been sent,
and you spirits who have arisen from the dead.
For I am the one who alone exists,
and I have no one who will judge me.
For many are the pleasant forms which exist in numerous sins,
and incontinencies,
and disgraceful passions,
and fleeting pleasures,
which (men) embrace until they become sober
and go up to their resting place.
And they will find me there,
and they will live,
and they will not die again.
Proverbs : CHah-ve-moht
Here then is Wisdom, the Sofia, the CHAHVEMOHT
1Does not (A)wisdom call,
And understanding lift up her voice?
2On top of (B)the heights beside the way,
Where the paths meet, she takes her stand;
3Beside the (C)gates, at the opening to the city,
At the entrance of the doors, she cries out:
4"To you, O men, I call,
And my voice is to the sons of men.
5"O (D)naive ones, understand prudence;
And, O (E)fools, understand wisdom.
6"Listen, for I will speak (F)noble things;
And the opening of my lips will reveal (G)right things.
7"For my (H)mouth will utter truth;
And wickedness is an abomination to my lips.
8"All the utterances of my mouth are in righteousness;
There is nothing (I)crooked or perverted in them.
9"They are all (J)straightforward to him who understands,
And right to those who (K)find knowledge.
10"Take my (L)instruction and not silver,
And knowledge rather than choicest gold.
11"For wisdom is (M)better than jewels;
And (N)all desirable things cannot compare with her.
12"I, wisdom, (O)dwell with prudence,
And I find (P)knowledge and discretion.
13"The (Q)fear of the LORD is to hate evil;
(R)Pride and arrogance and (S)the evil way
And the (T)perverted mouth, I hate.
14"(U)Counsel is mine and (V)sound wisdom;
I am understanding, (W)power is mine.
15"By me (X)kings reign,
And rulers decree justice.
16"By me princes rule, and nobles,
All who judge rightly.
17"I (Y)love those who love me;
And (Z)those who diligently seek me will find me.
18"(AA)Riches and honor are with me,
Enduring (AB)wealth and righteousness.
19"My fruit is (AC)better than gold, even pure gold,
And my yield better than (AD)choicest silver.
20"I walk in the way of righteousness,
In the midst of the paths of justice,
21To endow those who love me with wealth,
That I may (AE)fill their treasuries.
22"The LORD possessed me (AF)at the beginning of His way,
Before His works of old.
23"From everlasting I was (AG)established,
From the beginning, (AH)from the earliest times of the earth.
24"When there were no (AI)depths I was brought forth,
When there were no springs abounding with water.
25"(AJ)Before the mountains were settled,
Before the hills I was brought forth;
26While He had not yet made the earth and the fields,
Nor the first dust of the world.
27"When He (AK)established the heavens, I was there,
When (AL)He inscribed a circle on the face of the deep,
28When He made firm the skies above,
When the springs of the deep became fixed,
29When (AM)He set for the sea its boundary
So that the water would not transgress His command,
When He marked out (AN)the foundations of the earth;
30Then (AO)I was beside Him, as a master workman;
And I was daily His delight,
Rejoicing always before Him,
31Rejoicing in the world, His earth,
And having (AP)my delight in the sons of men.
32"Now therefore, O sons, (AQ)listen to me,
For (AR)blessed are they who keep my ways.
33"(AS)Heed instruction and be wise,
And do not neglect it.
34"(AT)Blessed is the man who listens to me,
Watching daily at my gates,
Waiting at my doorposts.
35"For (AU)he who finds me finds life
And (AV)obtains favor from the LORD.
36"But he who sins against me (AW)injures himself;
All those who (AX)hate me (AY)love death."
CROSS CONSECRATIONS OF THE EPISCOPATE
[Bishops form circle, bless & distribute bread and wine.]
FIRST CONSECRATING BISHOP – Fellow Bishops – Apostolic and Gnostic – Let us join together in an act of cross consecration, extending the ancient egregore each of us has received each to the other in unbroken lineages and the unbroken circle Apostolic and Gnostic.
[turns to Bishop on the right, anoints forehead, hands and feet with oil, raises hands in sign of blessing and recites the Birkat Kohenim.
May the Lord Bless you and keep you. May the Lord make his light to shine upon you. May the Lord lift up his light unto you, and grant you Peace.

I set before you this day a blessing and a curse. Therefore choose life that you may live.

[Pause] Do You Will to Accept Consecration in the Gnostic and Apostolic Lineages Passing through Us from the Dawn of the World?

[On Affirmation] By the Power Vested in Us from our predecessors in the Most Antient Egregore of Spiritual Power, I Consecrate You

EPISKOPUS forever in the Succession Apostolic and Gnostic.

[All: May It BE SO! IT IS SO!]

(This is followed by sub conditione consecration of each bishop in turn by Tau Sir Leonis: "...Receive thou the full power and authority of Divine Episcopate for the salvation, liberation and sacred evolution of all beings....")

There follows the Congregational Illuminist cross consecration ritual.

Bishop Tau Sir Leonis then gives the following homily to the sisters and brothers present: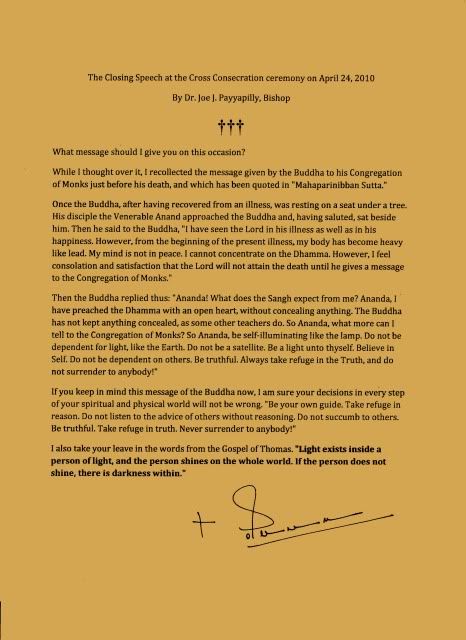 CAUSES URL ON LINE
click here
UPDATED LIST OF LOCAL BODIES
click here
RECENT ARABIA MOUNTAIN WORKING NEWS
click here
STREAMS IN THE WILDERNESS
click here
Congregational Illuminist bodies exist and are springing up, in free communion one with the other, all over the world. Our aim is to facilitate this non-authoritarian approach and process. We also are a growing presence in cyber space.

Positions

1. Spiritual growth is incompatible with authoritarian structure.
2. Scientific Illuminism requires a non-dogmatic, experimental approach.
3. A free society linked in free communion should be actualized in this New Aeon.
4. We facilitate, we do not lead. We do the Work, we do not extract oaths or dues, or require dogmatic beliefs.

for a clue from the news as to why click here

Part Two