Congregational Illuminism has become a substantial movement, more a communion and an idea than an "organization" over the past several years, all over the world. This past week
Congregational Illuminism on Facebook
Causes, our primary internet presence, passed 700 members in only a little over a year on line, prompting one witticism that, for the moment (still growing daily) we are 'the other 700 Club' -- based on these loose-knit ideals:
1. Spiritual growth is incompatible with authoritarian structure.
2. Scientific Illuminism requires a non-dogmatic, experimental approach.
3. A free society linked in free communion should be actualized in this New Aeon.
4. We facilitate, we do not lead. We do the Work, we do not extract oaths or dues, or require dogmatic beliefs.
TAU SAMLAH (left) RECONSECRATED BY T ALLEN GREENFIELD AT CEREMONY BELOW 02-03-2010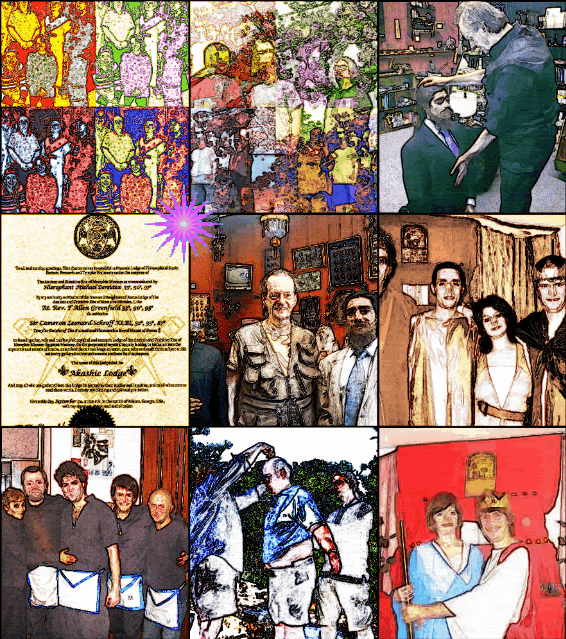 CONGREGATIONAL ILLUMINISTS WORK AROUND THE WORLD

Local bodies have been developing first spontaneously, then assisted by a loose-knit network of facilitators In Free Communion, for ten years now, in rivalry with no organized body of manifestation but based in free communion and free inquiry, now numbering over 40 diverse local bodies in many countries and growing. Most are public access bodies, some are Temples, others A&P Ritus M-M Lodges and nodes. One can find frequently updated lists
here
and
here
.
European and North American bodies, while both holding ancient and traditional lineages of an occult, Gnostic and apostolic episcopal nature, have tended to develop in consultation with their counterparts across the Big Pond, but without direct physical laying on of hands and the exchange of points chauds or "power points". Two outstanding bodies which have developed over these years are
Ormus Lodge in the Atlanta GA USA
area, and, half a world away,
Theba Temple in Split Croatia
. Both are chartered in the A&P R MM as well as being facilitated by consecrated bishops Apostolic & Gnostic. Tau Sunce and Tau Samlah in Split informed their U.S. counterparts of the impending visit of Tau Samlah, and, hosted by
Kwan Yin
Temple and Ormus Lodge in Atlanta, a cross-consecration and points chauds comprehensive empowerment were arranged and held in the ceremony reprinted here on 3 February 2010, withseveral visitors and well wishers, notably from Tiamaat Lodge (IIR), 32z11 Lodge Vault Network , Tiamaat Lodge (IIR)-32z11 Lodge Vault Network -I9R Intuitive Lodge joining some seven bishops in synod met in the deliberative and festive atmosphere which followed, hosted at Ormus Lodge. We look forward to forging deeper links with Tiamaat Lodge.
Here is an excellent report on the event from Ormus Lodge and Coptic Gnostic Church facilitator Tau Dositheos from IN_FREE_COMMUNION:

Greetings all,

On 4 February 2010 there was a gathering of Free Illuminists at Kwan Yin
House in Atlanta, Georgia US. The guest of honor was Tau Samlah who was
visiting from Croatia. This event once again reminded me of the great
appreciation I have for the principle of free communion. There were multiple
nodes represented. Members were present from Theba Temple, Assembly of the
Knowledge and Wisdom of Solomon, Constellation of Abraxas, 32z11 Lodge Vault
Network, Ormus Lodge and the Coptic Gnostic Church. We also received support
from various other nodes and individuals who sent warm greetings and well
wishes. I want to personally thank everyone who expressed their solidarity
for this gathering.

The evening began in the upstairs of Kwan Yin House with a delectable feast
prepared by the gracious Tau Ishaviva. T Allen passed around for our
consideration a Cross Consecration Rite which he had previously prepared
(see attached). We collectively decided to use this Rite for the
consecrations.

Following the feast, T Allen ordained Raven to the Gnostic and Apostolic
Diaconate. We then proceeded to the cross consecrations. As per the ritual,
we gathered in a circle, Deacon Raven lit a red candle, held the oil and
presented the text for each consecrator. I recall the order being as
follows:

Consecrations sub conditione

T Allen to Tau Samlah,
Tau Samlah to Tau Lamed,
Tau Lamed to Tau Roger,
Tau Roger to Tau Ishaviva,
Tau Ishaviva to +Dositheos
+Dositheos to Tau Aron
Tau Aron to T Allen.

Through this we have essentially united the lines of succession held by many
of our US bishops in free communion with our "Eastern European" bishops in
free communion. [NOTE: I realize "Eastern European" is probably an
Americanized term. I intend no offense by my use of it and am happy to be
corrected by folks that live in this region on what the proper term for it
might be]. As far as I know, the cross consecrations have further
established and extended the egregore between the US, Croatia, Serbia,
Poland and Russia. Again, if my facts are wrong, feel free to correct me!

A change of scenery - downstairs in the home base of Ormus Lodge - we
proceeded to facilitate all 97 points chauds empowerments (plus some of the
lesser known points) for Tau Samlah. The empowerments were done by T Allen,
myself, Tau Lamed and Tau Ishaviva.

We were then joined by Laremy and three (or four?) fellow members of 32z11
Lodge Vault Network (I apologize, but can't recall everyone's names. Laremy,
feel free to announce your Lodge brothers' names). The dialog was extremely
engaging. I was grateful for the fellowship we shared together.

Anyone can feel free to add to or amend this account. I'm simply trying to
get something down for the record. :)

Agape,
+Dositheos
The Congregational Illuminist Work continues, ever strong, more widespread and offering a freedom-based alternative approach to Scientific Illuminism in its many forms.
CELEBRATION AFTER THE CROSS CONSECRATION CEREMONY
Congratulations especially to Tau Samlah as he returns to Croatia, and special thanks to Tau Ishaviva for hosting and + Dositheos for facilitating.
TAG ANNOINTS FEET OF TAU SAMLAH
CONGREGATIONAL ILLUMINISM
Join to promote non-authoritarian, decentralized metaphysical and occult bodies, in free communion.
Cause URL
click here.
UPDATED LIST OF LODGES, TEMPLES, NODES -
click here
IlluminiGnosis LISTS OF LOCAL BODIES:
click here
Group URL
click here

Congregational Illuminist bodies exist and are springing up, in free communion one with the other, all over the world. Our aim is to facilitate this non-authoritarian approach and process. We also are a growing presence in cyber space.