October 16th, 2009


Do check this fine site. I try to remember and thank the guys 'n' gals that saved the world from fascism, but the homefront too. Studs Turkle called it "the good war".

WW II RAILROAD CANTEENS
"We treated the soldiers like they were the most honored guests at a fine banquet -- and they were." -- A canteen volunteer.
The best weapon of WW II was not produced in a defense plant, it was
the home spun industry of the trackside canteen --
boosting morale of the troops!
A westbound troop train has just pulled in at Crestline, Ohio, on the Pennsylvania Railroad in the Spring of 1943. Troops have flocked off the train and make a dash for the free canteen service while locomotives are changed. This canteen served over 1,200,000 troops from 1942 to 1946, all with donated food and manned by a full staff of volunteers. Founder Marie Moran holds the door open and welcomes the troops. -- An original oil painting by Scott D. Trostel 16 x 20 oil "Noon at Crestline." This painting is for sale.
Now in print
ANGELS AT THE STATION
Scott D. Trostel
One of the most compelling books of humanitarianism ever!
Stories of many of the canteens and the
volunteers struggles to meet every soldier.
FDon't be shy, this site was designed to tell the canteen story and sell books about the amazing WW II canteens. Click on the town name to see their story and purchase the book. BELLEFONTAINE, LIMA, TROY, DENNISON
One of the most outstanding volunteer efforts in history were the track side canteens for servicemen and women at the railroad stations around the United States during World War II. Ccitizens at over 125 cities around the United States operated track side free canteens for the soldiers, sailors, marines and aviators in WWII. They provided dedicated service to millions of troops passing through on trains.
Volunteers greeted soldiers on every train with friendly smiles, welcoming words, and baskets filled with food and other treats during the brief moments their train paused at the railroad station. Service men and women could get sandwiches, pies, cookies, cakes, coffee, milk, magazines, newspapers, writing paper and sundry items, all free, and all donated by residents in their respective communities and immediate region.
America's railroads were suddenly placed under crushing volumes of war time traffic as this nation mobilized. With the turn of Spring 1942, thousands of regular passenger trains were filled with active duty service men and service women, many heading home on furlough. Hundreds of troop trains were moving entire Divisions from post to post or toward ports for embarkation to North Africa, England and the Pacific as the allies began to defeat the Germans and Japanese.
In those coaches were green troops, soda jerks and farm boys, teachers and dentists, students and lawyers, service station attendants, iron workers and store clerks who in the prime of their lives were going to war. Many had no idea where they would be going and it shown on their faces. Most had never been this far from home. These were the men and women destined to stand in harm's way.
Many were homesick, perhaps tired and maybe a little scared. At designated railroad stops, the soldiers only had time to stretch their legs, some were on trains for as long as five to seven days.
Many troops procured a short furlough before moving to a port of embarkation. They made every effort, sometimes extraordinary efforts to make the solemn journey home. In many instances their funds did not stretch much beyond purchase of a train ticket home. The need to get home was so important that they would go without food while on the train in order to make that all-important final trip home to see the folks, a favorite girl or young wife and family before leaving for foreign shores. Soldiers on furlough were not being fed by the government and did not have a travel voucher to cover personal travel expenses.
Food from the dining car was expensive and railroads were being squeezed with food rationing to serve only two on-train meals daily. Meals ranged from $1 to $1.50, prices that were excessively high for the GI who earned just $21 a month. Soldiers on furlough sometimes traveled four or five days, existing on water, and perhaps a few cookies offered by a kind stranger. The boys going home on furlough or traveling at their own expense more often than not were downright hungry.
Troop trains also became a common sight, but those trains only made a terminal stop long enough to make a crew and locomotive change. They had kitchen cars designed and built specifically to feed the on-board troops and at first restricted soldiers from getting off. The War Department had imposed a regulation that trackside donations of food not be permitted. It was quickly relaxed.
As America mobilized the United Service Organizations, USO, was formed in partial response to the need for providing Canteen services for the troops. This was 1940, preceded the United States entry into World War II. President Franklin Delano Roosevelt solicited six private organizations-the YMCA, YWCA, National Catholic Community Service, the National Jewish Welfare Board, the Traveler's Aid Association and the Salvation Army. Their task was to find some way to meet on-leave recreation needs for the members of the Armed Forces.
The six organizations formed a joint entity and the USO, was incorporated in February 1941. One place they set up recreation and food facilities was in the railroad stations of larger towns. For troops on layover between trains, such locations were satisfactory. USO CANTEEN LIST
For many trains the stop was so brief it did not give troops a chance to get off or sometimes they simply did not stop. It created a difficult situation. What the USO did not see was the imperative need to keep thousands of soldiers fed while on the trains.
At Towns like Reno, Nevada; North Platte, Nebraska; Bellefontaine, Ohio; Lima, Ohio; Troy, Ohio; Clinton, Iowa and Connellsville, Pennsylvania, local groups recognized a greater need to provide a little food, a few moments of comfort and distraction at track side.
Many were small towns but major railroad terminals where train crews were changed, locomotives serviced and freight trains were yarded. The hub in these towns was the busy passenger station, usually close to the center of town. Railroads were the major industry in town. There were also towns like Troy, Ohio that had no major rail facilities but were water stops where the trains only paused long enough to take on locomotive water. It was enough time to warrant some kind of canteen service for the benefit of the troops.
As the war deepened hometown people were routinely visiting the local train station to watch as the troops passed by. In those spectators were a few people who were moved in powerful ways to do something compassionate for the boys. They wanted to give them some brief relaxation, a distraction, a few moments of home with something to eat and drink.
Driven by a duty of service, at different towns the idea was conceived to do more for every soldier they could possibly touch. They might have seven to fifteen minutes to give the soldiers something; magazines, newspapers, cookies, candy bars, drinks and even sandwiches, a gentle smile, a word of encouragement, and most importantly, powerful assurance the people back home were behind them. There was no local USO, so they would have to do it themselves.
From December 1941, until September 1970, a most amazing phenomenon quietly occurred at railroad stations in many towns around the United States.
It was a grass roots effort that brought hundreds of local residents and their offering of comfort and kindness for each trainload of soldiers. Those kind hearted souls promoted peace and inspired others to also extend kindness to those many young men and women, most being total strangers.
Their duty of service and gladness helped all the soldiers they served to freshen into smiles as fears and anxiety were dissolved. This was the unselfish love of those patriots.
Their task was made a little easier by a brief and simple touch of gratitude that was offered at the stations and on the platforms of these stations.
Click here to view photos, and stories of the canteens and to view letters and purchase canteen books
Click here to read selected letters from soldiers to the canteen volunteers. These are powerful voices of appreciation - don't miss them!
CLICK HERE TO READ HEART WARMING STORIES ABOUT CANTEEN VOLUNTEERS AND THEIR PERSONAL STRUGGLES TO MEET THE TRAINS AND FEED THE TROOPS.
Troop Train Wreck at Piqua, Ohio Click Here
Photos on this page are from the Lima, Ohio canteen and courtesy of the Allen County (Ohio) Historical Society, used with permission. All rights reserved.
Copyright 2006, Cam-Tech Publishing
Cam-Tech Publishing
4890 E. Miami-Shelby Rd.
PO Box 341 Fletcher, OH 45326-0341
Phone: (937)368-2489
Current Location:

USA

Current Music:

"I'll Be Seeing You"
UFO Hunters - The Silencers
Shared via
AddThis
UFO HUNTERS ANNOUNCEMENT
History Channel now posts this at
http://www.history.com/shows.do?action=detail&episodeId=488280
This is the program where Tim Beckley and I lay bare the secrets of the
REAL
Men in Black.
To follow, I am told by the publisher that the reprint of M.I.B. The Terror Among Us by Gray Barker with a
new introduction by me should be out around the Holiday Season.
Thursday, October 29 08:00 PM
and
Friday, October 30 12:00 AM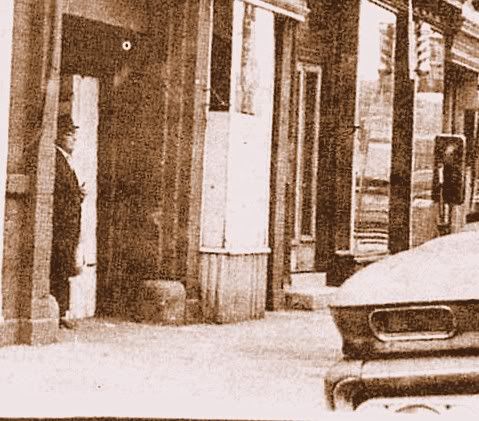 UFOs are the biggest mystery of our time and somebody--or something--seems determined to keep
it that way. Hundreds of UFO researchers and witnesses have told of terrifying encounters with
mysterious men, usually dressed completely in black, who threaten terrible consequences if they
don't keep silent. The Men in Black seem to appear out of nowhere, know facts the witnesses haven't
divulged to anybody, and frequently display bizarre behavior, leading some to question whether they
are in fact, human. The team interviews men who are only now willing to come forward to tell their
stories. A sketch artist will create portraits of the MIB to see if the sightings match. The team
will also analyze the only known photograph of a MIB and talk to the photographer. Finally, the
team travels to "the new Area 51" in the Utah desert, to a site rumored to be the place where
the MIB originate.
Rating: TVPG
Running Time: 60 minutes
Genre:Mysteries of History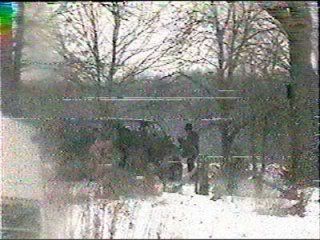 Men-In-Black
Oriental or olive-skinned. Eyes sensitive to light. Eyes have vertical pupils. Very pale skin in some types. Do not conform easily to our social patterns. Usually wear black clothes, drive black cars, and wear sunglasses. In groups they all dress alike. Sometimes time-disoriented. They cannot handle a psychological "curve-ball" or interruption to their plan. Often intimidate UFO witnesses and impersonate government officials. Equivalent of our CIA. From another galaxy


===
Also referred to as the 'Men In Black' or 'Horlocks'. These are apparently in many cases humans who are controlled by draconian influences, although other 'MIB' have been encountered which do not seem human, but more reptilian OR synthetic. The 'MIB' have been encountered often after UFO sightings, usually intimidating witnesses into keeping silent about what they've seen (many of the witnesses may be 'abductees' with suppressed memories of the event). Their 'threats' appear to be motivated by attempts to utilize 'terrorism', 'fear' or 'intimidation' as a psychological weapon against witnesses. This 'weapon' may not only be used to keep the human 'MIB' under control, but by the human MIB's themselves. 'They' are often, though not always, seen in connection with large, black automobiles, some of which have been seen disappearing into mountains -- as in the case of one basing area between Hopland and Lakeport, California -- canyons or tunnels or in some cases apparently appear out of or disappear (cloak?) into thin air. Most humanoid MIB have probably been implanted by the Draconians and are essentially their 'slaves'. Bio-synthetic forms possessed by 'infernals' also seem to play a part in the MIB scenario, as do subterranean and exterran societies. Sirius, at only 9+ light years away, has been identified as a major exterran MIB center of activity, with a subterran counterpart existing in ancient antediluvian 'Atlantean' underground complexes which have been 're-established' beneath the Eastern U.S. seaboard.