When I was way too young to buy
*those*
magazines, I'd go to newsstands and try to buy some pix of Bettie Page. I grew up in a liberal household, but even my parents weren't happy. "You're too young for this stuff," would say the guy behind the counter at the news stand as he accepted my buck fifty and delivered over a copy of one of those 50s gems of innocent eroticism, ranging from striptease to bondage tease.
I never meant this LJ to be a series obituaries, and it won't, but we first half of the baby boomers and G.I.s back from WW II and Korea with imagination and eroticism and dreams of not-quite impossible delight have had a hard year -- Vampira, Forest Ackerman and now Bettie Page.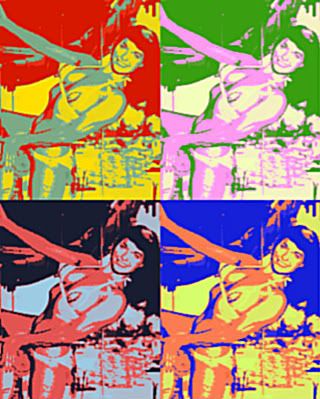 Here's one of the better retrospectives. She became a missionary after her "famous" years, and an icon of the sexual revolution later in life. She is a a saint by my standards.
Pinup Queen Bettie Page Dead at 85
Today 7:29 PM PST
Michael Ochs Archives/Getty Images
Although her body was mortal, Bettie Page's image is forever young and feisty.
The 1950s-era model, whose saucy poses for publications like Beauty Parade, Twitter and an upstart rag called Playboy won her a legion of fans and a cult following long after her pinup days were over, died Thursday night at a Los Angeles hospital, nine days after suffering a heart attack. She was 85.
According to her agent, Page had been hospitalized for three weeks beforehand with pneumonia.
Page's trademark jet-black bangs and curvy figure—clad in slinky lingerie, bondage gear or other thematic costumes, if clad in anything at all—were fixtures on the pages of men's magazines from 1951 to 1957.
Hugh Hefnerpicked her to be Playboy's Playmate of the Month in January 1955.
In an interview a couple of years ago, Hefner described her MO as "a combination of wholesome innocence and fetish-oriented poses that is at once retro and very modern."
Her willingness to go wild in front of the camera also landed her the starring role in dozens of silent fetish shorts, featuring her as a dominatrix, with her biggest-selling still photo of all time coming from the featurette Leopard Bikini Bound. The only time the dancer and aspiring actress' voice was captured on film was in the feature-length Striporama, in which she had a small speaking role.
Of course, this was the 1950s, so all that risqué exposure came with a price.
In 1957, Page was called to testify before Congress during an investigation into the possible perversity of such photographs. She ultimately never had to take the stand, but many of the negatives from her gigs as a mail-order pinup were destroyed during the proceedings.
Page ended up leaving the life—and how—in 1959, when she became a born-again Christian, not long after suffering a nervous breakdown upon the collapse of her second marriage.
The Nashville native applied to be a missionary in Africa but was rejected because she had been divorced. She later ended up working for the Rev. Billy Graham's ministry. Depression and other mental issues clouded some of her later years
But while Page may have turned her back on her past, her fans didn't. The 1976 book A Nostalgic Look at Bettie Page won her a small but devoted following, and the photo reissues, film collections and reimagined accounts of her life and infamous career have been pouring forth ever since, including in 2005 when Gretchen Mol starred in The Notorious Bettie Page for HBO.
Page began giving interviews again in the 1990s, but wouldn't allow reporters to take her picture, figuring fans would prefer to remember the sultry sexpot she once was, or, as she told the Los Angeles Times in 2006:
"I want to be remembered as the woman who changed people's perspectives concerning nudity in its natural form."