August 13th, 2008
I went to Mt. Arabia for the first time today. Pretty significant happenings there. My wife and I both have had experiences with wildlife interacting with us (we were on different parts of the mountain at the time) and she and I both saw a UFO while lying and looking up at the clouds, laying at the edge of the pond; my wife's attention was first drawn to the object while looking at a large bird. When I originally sat down at a tree to meditate, after first arriving at the mountain, I thought I might have caught a glance of something strange in the sky ,but at that time brushed it off...I tracked the UFO by the pond for about 10-30 seconds.
At first we thought it was a bird, or a high plane, then started to think it was something otherwise because of its flight pattern, and shape. No wings of an airplane could be seen, and it was moving too swiftly to be a bird, and may also have been too high for a bird. Its flight pattern suggested it was not a traditional plane. It was moving slightly erratically; it would go down for a few seconds and then would make a sharp turn, (or perhaps a tight turn might better describe it) in the other direction. Then it floated off out of view. Given the erratic flight path and the high gas prices, I seriously doubt it was a commercial airplane! My wife lost view of it after first sighting it, and she never picked up on it again. It was either an experimental aircraft or a UFO, IMO; first one I've seen.
My diary entry for 8-9-08, written the night before the event, was regarding an experience I had in college when I had the impression that I was hearing 'channelled' messages from the Ashtar command while listening to a Ween CD. I was thinking about the experience that night because I had been reading some material regarding the Ashtar command.
In any of your research at Arabia have any of your associates seen a UFO?
Frater 222
http://tanraninuhcheekgozaknee.homestead.com/
http://frater222.livejournal.com/
TAG NOTE – We've seen black helicopters buzz us, and have had orb effects, but no UFOs per se during Workings on Arabia Mountain. Here is an example following a consecration. Note orb above newly consecrated bishop (top picture) and enhanced view of orb (bottom picture).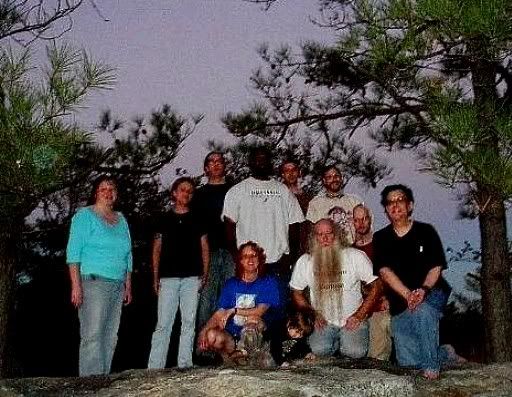 ARABIA MOUNTAIN UFO? FIRST HAND ACCOUNT
Current Location:

Arabia Mountain

Current Mood:

thoughtful

Current Music:

Tangerine Dream