From our dear friend Bishop Gerald del Campo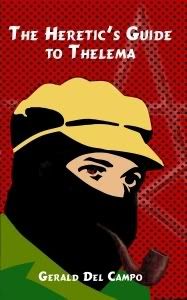 "This June my new book, The Heretic's Guide to Thelema will be released.
"This is actually a work in three volumes, containing new editions of (until now, out of print) New Aeon Magick: Thelema Without Tears and New Aeon English Qabalah Revealed, as well as a brand new book called The Ethics of Thelema.
"New Aeon Magick is a primer on Thelema, written by the author for his children (though perfectly appropriate for people of all ages). Rather than merely relying on a lot of theory and fancy words, this text is meant for everyday practice and integration into one's life. New Aeon English Qabalah Revealed takes Qabalah out of ancient Hebrew and into a more common modern language. However, rather than completely divorcing Qabalah from its roots, the text integrates the old and the new into a system fit for the 21st century. The Ethics of Thelema, while it explores decisions, beliefs and perspectives from a Thelemic viewpoint, may be of interest to anyone, Thelemite or no, who ponders the intent and impact of thoughts and actions.
I am also proud to announce the ultimate coolness of my band mates in Trick Sensei, who have teamed up with me to release a special promotional 7-song CD of some of our best material just for folks who preorder The Heretic's Guide to Thelema. This is limited to a run of fifty copies, the CDs will be available - for free -- only with the first fifty copies of the book sold.
"For the first fifty copies, orders made from the U.S. or Canada will be shipped from the U.S. Orders made elsewhere will be shipped from the U.K. CDs will be shipped with books. To order, please click over to
http://www.thegreenwolf.com/heretic.html
... and tell your friends, for crying out loud! And if you haven't already done so, check out the other works offered by Immanion Press.
"If you have any questions, please contact Lupa (whishthound (at) gmail.com) – U.S. orders Storm Constantine (editorial (at) immanion-press.com)—U.K./international orders"
For the record, I have - reluctantly - removed all comments posted here that might violate TOS concerning the full civil name of J.C.H. even if said comments were most uncivil.