ON THE SET OF SPIKE-TV's "STREET WARRIOR"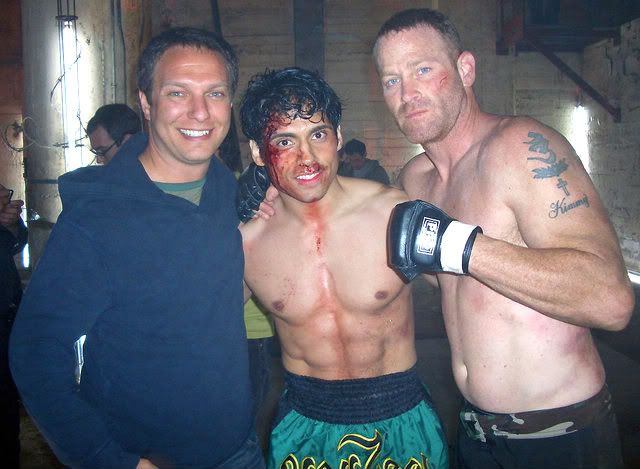 Alex Greenfield, script writer, left, on set of "Street Warrior"

[Alex joined World Wrestling Entertainment in 2005 as
a writer/producer for all of the company's television
shows and pay-per-views, and was quickly promoted to
become the lead writer of SMACKDOWN. He supervised
the show's transition from UPN to the C/W Network,
ran the writers room, co-produced more than a dozen
branded pay-per-views and forged lasting
relationships with both crew and talent.
Since exiting WWE in 2007, Alex has worked on a
variety of television projects. He wrote the movie-
of-the-week
STREET WARRIOR
for Spike TV and Larry
Levinson Productions. Starring THE UNIT'S Max Martini
and directed by David Jackson, the action/adventure
is currently in production in Los Angeles. Alex also
wrote METEOR: PATH TO DESTRUCTION for Levinson and
Ion Television. The apocalyptic mini-series is
currently slated for production in May 2008.
Alex Greenfield lives with his wife, Penny Larson in
New York. He is represented by manager Dannie Festa. He is also
my eldest son.]
On Mon, Mar 24, 2008 at 8:29 PM, T Allen Greenfield
<bishop17@mindspring.com> wrote:
Dear Alex,
I was wondering if (A) there is any problem
running some of your pix on my livejournal, and (B)
if there is a brief description of the film plot,
official or otherwise, and a projected date for
showing. I wanted to brag on you to my readers!
Love,
Dad
Re: pix
From: Alex Greenfield
To: T Allen Greenfield
Subject: Re: pix
Date: Mar 24, 2008 9:02 PM
No problem - post what thou wilt shall be the whole
of the law.
What's Street Warrior about? (cue movie preview guy
voice) After five years hard time in Leavenworth for
sending his commanding officer to the hospital in the
middle of a war zone, Jack Campbell just wants to
return home to a peaceful life. But the home town he
left behind has fallen on hard times and Jack's
little brother is in a coma. Jack has to follow him
the rabbit hole and into an illegal underground
fighting tournament called "The Gauntlet" to take
revenge on the men who hurt his brother and turned
his town upside town. It's Get Carter meets
Bloodsport, and will probably air sometime in May
(just a guess).