Tau Sergije of Theba Lodge Consecrated in Bosnia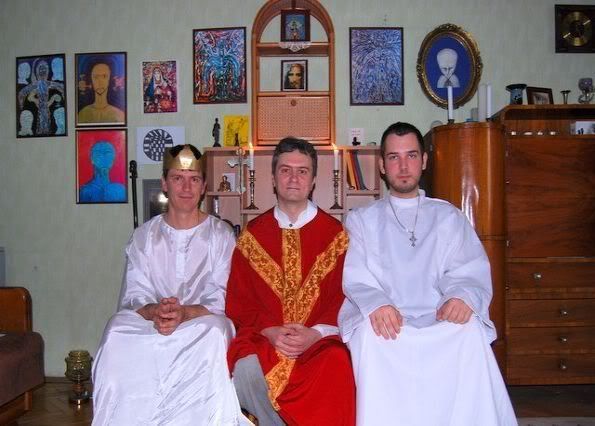 Tau Sergije - March 9, 2008

I like to shortly inform you that I am today consecrated into Gnostic Bishop. Ceremony

begins at 11 AM and it was performed by Tau Elohael with support of Tau Helios from Poland who was consecrated by him day before. Interesting information can be that he day before took name which at first time l planned to take, but in time I changed it in Tau Sunce which also means sun on Croatian.

Consecration was very nice and feel it very deeply and it was made during Bertiaux Shiva Mass in Tau Elohael's apartment in Sarajevo. We took some pictures which I will send to you tomorrow with scan of my chart and Tau Elohael's chart. Interesting (or funny) to me is my face on that pictures, after ceremony still in upper world. On presently attached picture from left it is me, in center Tau Elohael and on right Tau Helios.

Tau Elohael of Sarajevo March 10, 2008

Dear Brother Allen,

On March 9 we had a nice episcopal consecration ceremony of Sergije Vulic from Split, and I am certain he will send you more info and photos etc.

Personally, I am happy I met a new spiritual friend, who lives in my neighborhood.

I hope you and Sergije will successfully pursue the work of your gnostic church in Croatia, and I am happy I had a role in that.

Love to you, and I hope we will stay in touch,

Tau Elohael

Tau Sergije - Mar 10, 2008

I came back from journey, everything is OK. I really see new conditions in me , also hardly wait so many things to do. Here are pictures of us from synod, and scans of my documents. I tried to make it smaller but now I am not sure did I made it enough small. Please publish all what you think that is proper. It takes much to download all, and I hope that it wouldn't be big problem, sorry if it is.

One thing I see now that is really Something. Laying Hands. At closing of ceremony of baptism I performed it to booth officers, also tried to do later, and it astonished me. I performed it regularly before on confirmations or ordinations, but now it is something so deep which I can feel inside of me as some kind of ecstasy which took all my consciousness. Also I feel that some deeper spiritual abilities are to come, or to be perceived.
NEXT MAJOR EVENT – ARABIA MOUNTAIN MARCH 22nd – CONSECRATION OF TWO BISHOPS, ONE PRIESTESS AND POINTS CHAUDS WORKINGS. CONGREGATIONAL ILLUMINISM PROCEEEDS ONWARD!
OUR ONLINE ugotta_have_heart
BOOKSTORE FOR OTHER ITEMS
http://www.amazon.com/gp/shops/index.html?ie=UTF8&sellerID=A2YG6QLVWKZ0OT