FROM THE SURFACE OF MARS - EARLY 2008 MARS ROVERS
SPIRIT - ASA's Mars Exploration Rover Spirit has this
view northward from the position at the north edge of
the "Home Plate" plateau where the rover will spend
its third Martian winter.
Husband Hill is on the horizon. The dark area in the
middle distance is "El Dorado" sand dune field.
Spirit used its panoramic camera (Pancam) to capture
this image during the rover's 1,448th Martian day, of
sol (Jan. 29, 2008).
This view combines separate images taken through the
Pancam filters centered on wavelengths of 753
nanometers, 535 nanometers and 432 nanometers. It is
presented in a false-color stretch to bring out
subtle color differences in the scene.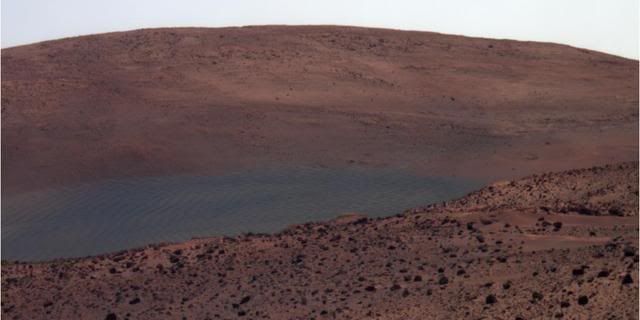 BOOKS DIRECTLY FROM ME -
Liber Thirty One - the Authorized Definitive Luxor
Press Edition - Frater Achad; Allen Greenfield Editor
$7.99 plus $3 postage & handling (very limited
quantity; autographed upon request)
The Story of the Hermetic Brotherhood of Light -
Allen Greenfield - Looking Glass Press - $7.99 plus
$4.50 postage & handling
PDF eCopy of INQUISITION IN THE 21st CENTURY by Allen Greenfield, no charge; donations gratefully accepted
ALEISTER CROWLEY - THE LAST RITUAL - 1989 FACISIMILE
EDITION - 1 copy; write before ordering $9.95 plus
$3.50 postage & handling
THE MAGICAL DILEMMA OF VICTOR NEUBURG - Jean Fuller
revised edition - 1 copy, write first; $12.95 plus $5
postage & handling
THE EYE OF SHIVA - Amaury de Riencourt - 3.99 plus
$3.00 postage & handling - 1 copy-write first

JIM KEITH SPECIAL !

THE GEMSTONE FILE Illuminet Press $9.95 plus $4.50 postage
CASEBOOK OF THE MEN IN BLACK Illuminet Press 9.95 plus $4.50 postage
SAUCERS OF THE ILLUMINATI JUNE 1993 extremely rare Adcance Proof Copy from IllumiNet Press by Jim Keith (writing as Jay Katz) UFO & Occult tied in. $35 plus $4.99 postage - 1 copy only! write first
(ALL THREE ABOVE TOGETHER $49.95 plus $9.95 postage & handling. Write before ordering!)

Write about our Anne Rice Specials!
others - write us at bishop17@mindspring.com
our paypal donation portal at
http://www.mindspring.com/~hellfire/bishop/
OUR ONLINE ugotta_have_heart BOOKSTORE FOR OTHER ITEMS
http://www.amazon.com/gp/shops/index.html?ie=UTF8&sellerID=A2YG6QLVWKZ0OT