I want to proudly annouce yet another group under our charter, this one in the New Orleans area, which you can
check out here
.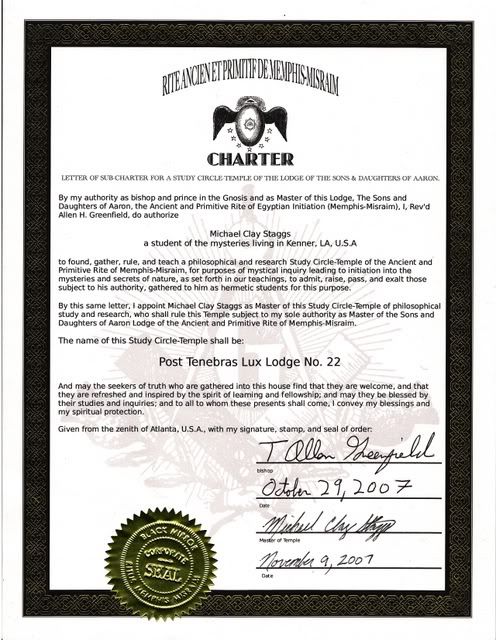 I've
just
posted a bunch of one-only books for sale on my
Rare Books & Odd Stuff
site. These include Barker's "The Silver Bridge" extremely rare and a one-of-a-kind double autograph, Paul Johnson's IN SEARCH OF THE MASTERS autographed by the author before publication of the major publisher's edition; 3 like-new books by the late Jim Keith--Casebook of the Men in Black, Black Helicopters over America and The Gemstone Files and other goodies. Keep checking.
WE HAVE NOW SOLD OUT OF
TRUE QUEST FOR THE HOLY GRAIL: The Western Sex Magick Tradition, as of today!, but we fo have 5 of the authorized edition of Frater Achad's Liber Thirty One, and still quite a few "The Story of the Hermetic Brotherhood of Light" an essential companion to our new "Victorian Fire" .
A few monographs not posted there - one only, so write me first at bishop17@mindspring.com.
Pangenetor Lodge Publications Catalog Number 2-August 1995 e.v. $6.00 plus $2.50 postage
De Arte Magica Aleister Crowley (Sure Fire Press 1988 edition) (slight damage to cover) $15 plus #2.50 postage
The Eucharist by de Saint Marcq Jessel-
Scriven
translation1995 slight water damage $10 plus $2.50 postage
SEXUAL MAGICK by Zayin (Black Moon 1991) $15 plus $2.50 postage
USA & Canada only through paypal. Again, write me first at
bishop17@mindspring.com
Use our
paypal portal
, either with your
paypal account or credit card.
If you have trouble with your order, contact me directly at
bishop17@mindspring.com
.