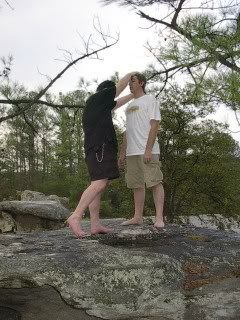 hermeticus_noir
is ordained priest by TAG

First reflections on Arabia
(reprinted by permission of
hermeticus_noir
)
Background
This was my first time going to Mt. Arabia and it was everything I imagined it would be. I can see why people have been going there over the years - it really is a powerful space. Since this is my first write up on the points work, I want to provide a brief background on my interest and recent involvement. I first became aware of the work when T Allen gave me a copy of the correspondences back during the Eulis Lodge days (1992-3?). At the time I was living with K. and S, who were both working the points in the original form as documented in T. Allen's email of 3/8/07 entitled "Historical Documents". I found it intriguing, but didn't feel an immediate draw towards involvement. I filed it away in my mind as a possible avenue of exploration for some future date. Looking back, I'm glad I made this decision. I've heard many of the early participants sooner or later experienced a kind of "fall out" with varying degrees of negative repercussions. This seems to no longer be the case since the decision was made that "All recipients of "points chauds" beyond a few should be invested with the "power and wisdom" of the ancient priesthoods, if not with the actual priesthoods themselves, as "containments" for the energies transmitted". I'm also glad I waited to allow for my personal and magickal development to reach a certain level of maturity before undertaking this work.

book news

"True Quest is an important testimony based on genuine experimental
results as opposed to the re-hashed tripe that is commonly served in
books on sex magick by the likes of Llewellyn, and now Weiser and New
Falcon as well unfortunately. Your research and candid exposition give
the book a genuine flavor and make it a valuable fount of good, solid
information." M.B."I very much enjoyed your book, The True Quest... I think you have
done a great service by so honestly recounting your experiments." K.S."I just want to inform you that the "Quest" arrived in excellent
conditions, and in record time.
"I would also like to thank you for sharing your experience in such an
open and direct way." P.F.
"
THIS IS THE MOST AMAZING BOOK I HAVE EVER READ!!!
you get right to the point and stay focused throughout
This will be a Gem I will keep returning too" White Arcanum"Just got mine in the mail yesterday!!! Absolutely ESSENTIAL reading
for *any* Tantric Mutant and/or Sex Magician!! " W.F.

Use our
paypal portal
, either with your
paypal account or credit card.
If you have trouble with your order, contact me directly at
bishop17@mindspring.com
.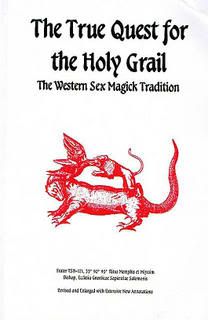 I
also have one (*one*) copy of the extremely rare original edition of Red Flame #2, Mystery of Mystery, autographed to me in "better days" by the present Primate of the EGC in the USA, Tau Apiryon, a/k/a Sabazius X*. The cover is slightly damaged, but it is in otherwise good condition. I want $60 plus $6 postage for this one! Write me at bishop17@mindspring.com to see if it is still available.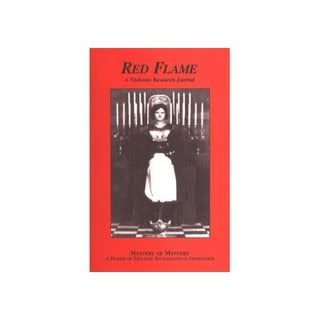 SOLD!