THE INQUISITION AND THE APPEAL: INJUSTICE MANIFEST
Note: If any readers here are not familiar with the run-up to the
following, I suggest they read the following, in the following order.
STATEMENT REGARDING O.T.O.
DECLARATION OF SUPPORT OF SABAZIUS
INQUISITION IN AMERICA PART ONE - PART FOUR
FAIR TRIAL, FAIR HANGING
STRANGE NUMBERS - STRANGER IDEAS
Sunday, September 30, 2007
IX* SENIOR MEMBER
: "I was unhappy about the way things with you were
handled, and wished it had been different. Some procedures, at least,
are different now."
TAG
- "That hardly helps me. I submitted an appeal via the EC; it does
not revisit the issues before the "Tribunal" but rather the
irregularities involved in the process. In my firm opinion, the
process was sufficiently irregular for the Areopagus to order a new
hearing without the active participation of clearly
interested parties."
IX* SENIOR MEMBER
- "THAT IS WHAT I WAS PUSHING FROM WITHIN."
THE SILVER BRIDGE By Gray Barker - SAUCERIAN PUBLICATIONS, 1970. Introduction by Allen Greenfield
The most unusual book on strange phenomena including the famous West Virginia "Mothman" and UFO cases of the 1960s by best selling author Gray Barker.
CONDITION: GOOD, No dust cover.
AUTOGRAPHED BY THE AUTHOR, TO THE AUTHOR OF THE INTRODUCTION (1970)
AUTOGRAPHED BY THE AUTHOR OF THE INTRODUCTION (2007). The Author included a feather with the 1970 edition in connection with the Chapter "Barbara Hudson". The original feather is included.
This is probably the only copy of this extremely rare book autographed both by both writers.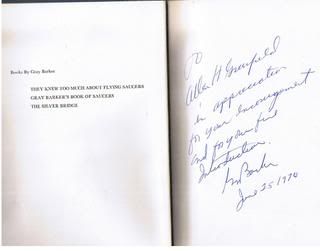 Right now it is up for AUCTION ON EBAY -make a bid if you're interested.

I have established a more user-friendly setting for sales of TRUE QUEST FOR THE HOLY GRAIL - The Western Sex Magick Tradition (8 copies left! Order now!) and The Story of the Hermetic Brotherhood of Light, while they last, and will use the site for other oddities and rare books for sale as they become available. You can still order from the existing site until mid October.

The Site is called, appropriately enough, RARE BOOKS AND ODD STUFF.