From Tim Beckley, my buddy for 45 years, and
http://www.health-sky.com/html/ufos-spotted-in-shanghais-night-sky-picturesvideo.html
Gu Jia
Shanghai Daily
Tue, 28 Aug 2007 20:13 EDT
MANY Shanghai residents have called media outlets over the past few days to report spotting unidentified flying objects in the night skies.
Most of the callers that night live in Yangpu and Minhang districts.
They said they saw an object hanging in the sky, shinning in red lights.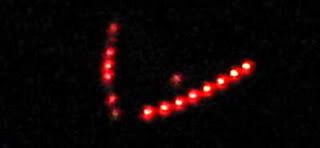 The "Kite" That Ate Shanghai
"The sky was very clear, so you could see it with your naked eyes or ordinary telescopes," they said.
"UFO" seen in Shanghai on August 27,2007.