Prelude

December 21, 1984 - The wind whipped wildly, as if the Fimblewinter were upon us, as I made my way, chilled to my very bones, to the top of that curious monadnock, Mt. Arabia. This one-time Native American Holy place had become my power point, a relatively pristine and hidden away 33°39'54?N, 84°7'6?W crystalline natural structure, it is made of metamorphic rock, actually composed of migmatite, metamorphosed at higher temperatures than gneiss but not sufficiently melted to become granite, it is a hundred million years older than its famous granite cousins Stone Mountain and Panola Mountain. Arabia Mountain is 400 million years old.


At the peak 944' peak are reflecting pools which, in season, team with rare wild flora and fauna including Diamorpha smallii. Appropriately, parts of the mountain were used to film the Stephen King film "Pet Semetary II."


At this time of year, one never knew, but the pools were full and, curiously, not iced over. The Face of the Moon starkly reflected from the most elevated pool, and I once again drew my blade and pierced Luna with my Templar sword, feeling, then seeing the "electrical" energy - Od, or Orgone, or Chi, or Prana or the Moon Drawn Down, as one wished, enter the crown of my head, slide down my chest and shoulder into my arm, my hand and from the hilt to the blade. The Moon Fire met it, its chilled whiteness taking on the electric blue of that energy numinous, sublime, unknown, and I raised the glowing sword to Luna, and sheathed it.

So many Knights and Dames have I made with this sword, so many beasts in the Enochian Aires I have slain, since, I cannot recall.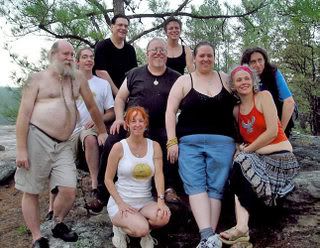 Synod gathered on Consecration Rock

Finally - I've had brisk sales, but still available: Now, return to this hallowed previous entry and buy some of my rare books, help me pay my bills and enjoy what I've written. Reprints of TRUE QUEST FOR THE HOLY GRAIL : THE WESTERN SEXUAL MAGICK TRADITION (about 20 copies remain), LIBER 31 (3 copies remain!) and STORY OF THE HERMETIC BROTHERHOOD (about 30 left) still available for now! Going fast. New sales every day.