I accepted clearly stating my adherence to the principles of Congregational Illuminism. These include:
1. Spiritual growth is incompatible with authoritarian structure.
2. Scientific Illuminism requires a non-dogmatic, experimental
approach.
3. A free society linked in free communion should be actualized.
4. We facilitate, we do not lead. We do the Work, we do not extract
oaths or dues, or require dogmatic beliefs.

I was also honored to Work on rituals, possibly because of my Work on THE COMPLEAT RITE OF MEMPHIS, which definitely needs an inexpensive reprint and/or a pdf or similar on-line free edition.




This, in addition to my long-standing Work inspired largely by the Great Patriarch and Magus Michael Bertiaux.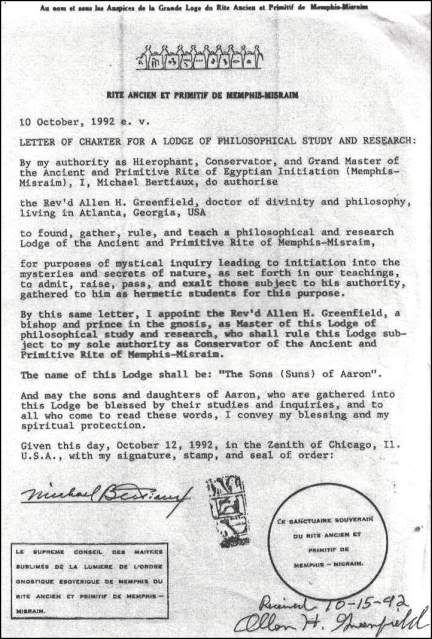 MEAPRMM enjoys wide recognition.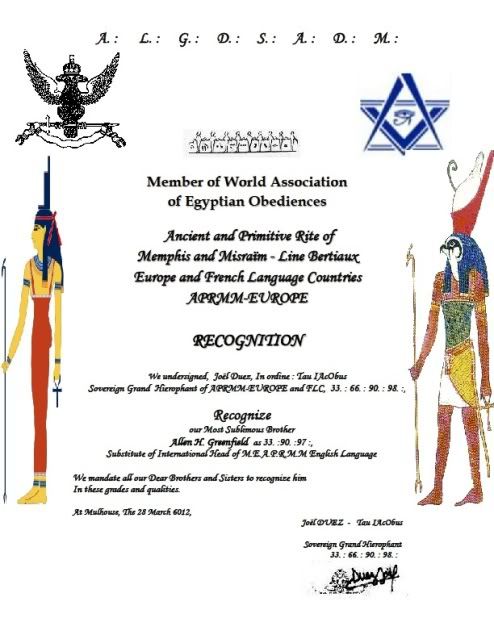 Again, I act as a facilitator, not a manager or anything remotely like it. As we often post here:

DRIVE TO 2000 MEMBERS! NOTIFY YOUR OWN FRIEND LIST!

Dear Sisters and Brothers in Free Communion,

It was only a couple of years back that Congregational Illuminism on Facebook became our movement's major public internet presence. We are now approaching 2000 members, a significant milestone. I am asking our sisters and brothers to help in a drive to pass that two thousand members mark (and beyond!). Please notify your own mailing list and interested friends of our presence and nature. The Work is important and your help is much much appreciated! Here is our basic information:

JOINING MAKES A DIFFERENCE FOR ILLUMINATION IN FREEDOM!
Profound thanks for those of you who have passed this along to your own friend list. It helps by illustrating that it is quite possible to seriously Work with others on Illumination without authoritarian structures. If you haven't already, please invite your own Friend list!
RAPIDLY APPROACHING 2000 MEMBERS - ILLUMINATION IN A FREE ENVIRONMENT!
1. Spiritual growth is incompatible with authoritarian structure.
2. Scientific Illuminism requires a non-dogmatic, experimental
approach.
3. A free society linked in free communion should be actualized.
4. We facilitate, we do not lead. We do the Work, we do not extract
oaths or dues, or require dogmatic beliefs.
You can make these resolutions a reality. Join us!
NEWS FOR 2010-2012 - MUCH ACCOMPLISHED, MUCH TO ACCOMPLISH!
http://tausirhasirim.livejournal.com/134176.html
http://tausirhasirim.livejournal.com/133494.html
http://tausirhasirim.livejournal.com/133104.html
http://tausirhasirim.livejournal.com/133126.html
http://tausirhasirim.livejournal.com/132386.html
http://tausirhasirim.livejournal.com/131921.html
http://tausirhasirim.livejournal.com/129794.html
http://tausirhasirim.livejournal.com/130938.html
http://tausirhasirim.livejournal.com/129794.html
http://tausirhasirim.livejournal.com/127931.html
http://tausirhasirim.livejournal.com/127677.html
http://tausirhasirim.livejournal.com/126386.html
http://tausirhasirim.livejournal.com/123849.html
http://tausirhasirim.livejournal.com/125258.html
http://tausirhasirim.livejournal.com/125566.html
http://tausirhasirim.livejournal.com/121198.html
and
http://tausirhasirim.livejournal.com/121432.html



FREQUENTLY UPDATED LIST OF LODGES, TEMPLES, NODES

- click here

Cause URL click here


Join if you haven't yet, and please do pass this along to your own friend list.



Cordially



Just Allen



Allen Greenfield